Save now and complete our 30 second quote form
Removalists Melbourne to Brisbane
Interstate Furniture Movers Melbourne to Brisbane
Melbourne to Brisbane
Interstate Removalists Melbourne to Brisbane
There are plenty of reasons why you could be choosing to move from Melbourne to the Gold Coast, including warmer weather, sandy beaches, family, or a job opportunity. Whatever the purpose behind this wonderful change of scenery may be, the Optimove team are here to support you through it. A stress-free, start to finish solution for house moving from Melbourne to Brisbane has never been more accessible.
Optimove's Services Include
House and apartment moves for local and interstate Australian moves
Office moves and office relocations for local and interstate Australian office moves
Packing and wrapping services in Australia
Furniture assembly and disassembly services in Australia
Backloading, storage solutions, and much more!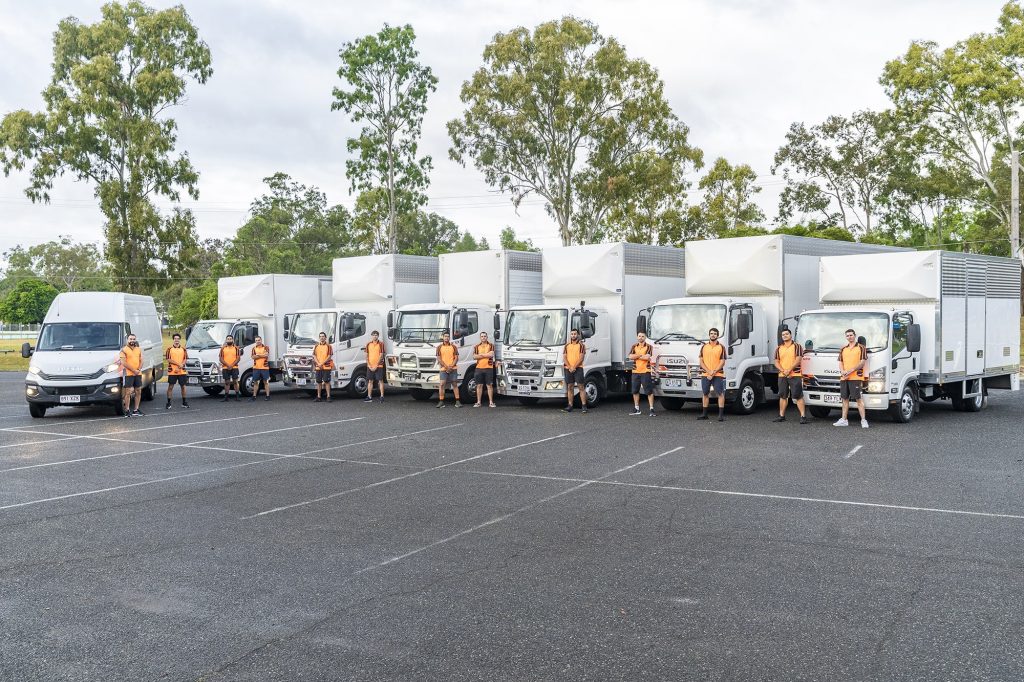 Why choose Optimove?
It's no secret that there are plenty of interstate removalist companies operating around Australia. So, when you're weighing up your options, you could be wondering which furniture moving company is best for a Melbourne to Brisbane move. We've got a few reasons why Optimove should be at the top of your list.
Interstate removalists Australia with great reviews
Optimove are a top-rated interstate removalist company in Australia. With over 1300 reviews that average out to a perfect five star score, you're getting a service that fellow Australian's truly recommend. Excellent customer service is at the forefront of our business.
Specialised Removalist Equipment and Vehicles
When you choose Optimove as your interstate Melbourne to Brisbane removalist company, you'll get serviced by a specialised fleet of moving vehicles, operated by a team with years of experience and specialised training. Cut your moving time down by utilising a furniture moving company that has all of the equipment to get your belongings where they need to be in as few trips as possible. Our moving trucks are the best choice for interstate moves within Australia.
Professional, Reliable, and Insured!
Our Melbourne removalist team is trained to undertake long haul moves. Your 17 hour trip to Brisbane from Melbourne is a breeze for us. Our careful drivers are familiar with the road rules and the steps to a restful drive. We're safe, and so are your items. Another benefit that comes alongside hiring a professional moving company is insurance. Would you be able to pay for any damages that could occur to your personal items in the case of an accident, or poor packing? You won't have to when you hire Optimove – we're insured. Poor packing isn't a worry either, because we offer professional packing, wrapping, and furniture assembly and disassembly services. You might have moved house a couple of times now, but our team does it multiple times a day, every day of the year. We've got the packing game down pat.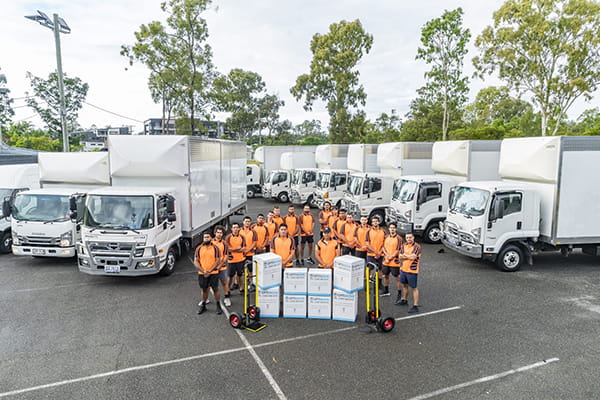 How far is Melbourne from Brisbane?
It's a long haul to get to Brisbane from Melbourne. The average drive with good traffic takes more than 17 hours. That means you'll only get one trip per day to move your household items when moving interstate from Melbourne to the Gold Coast of Australia. Flights take less time at only two hours, but if you want to take everything with you, baggage costs are going to hurt your wallet on top of the average $200 for a plane ticket.
Melbourne is a little over 1,700km from Brisbane. There's a train that runs, and you can climb on board if you're willing to sit there for one day and two hours. This is a popular choice for tourists and sight seekers alike, but when it comes to an interstate move, not many people are fond of this option.
The huge distance from Melbourne to Brisbane is just one reason why people to choose to hire a professional furniture removalist for interstate moves within Australia. Our far reaching continent may all consist of the same country name, but there are many miles between each state. Loading everything on to a truck with a professional, strong team taking care of the service removes the worry of distance and time in your Melbourne to Brisbane house move.
How much does it cost to get to Brisbane from Melbourne?
A trip from Melbourne to Brisbane, or the other way around, would set you back a minimum of $200 per person on an airfare one way, given that there were no promotional prices available at the time of booking. If you're considering a drive and calculating fuel prices based on the 1,700km+ trip, don't forget to take tolls in between Melbourne and Brisbane into account.
Optimove are affordable furniture removalists for interstate moves within Australia
Do you remember how we told you that customer satisfaction is at the forefront of our business? That includes our friendly pricing model that's designed to keep our costs low for the customer, while also paying our workers fairly. We want everyone to come out of this feeling good about the move, and our pricing is aimed to reduce the amount of stress that's involved with an interstate move.
If you're moving from Melbourne to Brisbane we'll price your furniture moving service per the volume of furniture, rather than the number of hours we'll be working. No one wants to pay for someone to be on the road for a 34 hour round trip – and that's only one load. We've worked out a pricing system that benefits everyone. Optimove provides affordable interstate moves from Melbourne to Brisbane.
Expert Interstate Office Removalists
Optimove are your professional office removalists, local and interstate. Moving to a new office or business does not have to be difficult. Our removalist team is an expert at moving office furniture and equipment, and we take care of every detail. With our superior red carpet treatment and personalised service, you will be able to limit downtime (if any at all) and discard your worries and concerns.
Packing & Unpacking Services
Every move is different – which is why we offer flexibility to work around your needs, and can tailor a package to suit you.
We can either help with packing and unpacking for the following:
Your entire home
A single room
A few big and bulky, fragile items
Packing only
Unpacking only
Our professional packing team carefully and securely pack all your belongings.
We only hire full-time, permanent staff members. Our team is reliable and trustworthy. You can relax while they are handling your expensive and valuable items.
We can also provide Premium boxes for your move if required.
Short & Long Term Storage Solutions
We are a full-service moving company. We can help you to plan your move, safely pack all your belongings, disassemble your furniture, move your belongings into storage, and then move and reassemble your furniture into your new home.
We treat every item with the utmost care as if it were our own.
Whether you have renovations planned, have outgrown your home, or are downsizing, Optimove makes storage easy.
Optimove provides start to finish house moving services
Our team is here to get you through your entire move. From the moment you decide to leave Melbourne, all the way up until your new home in Brisbane is furnished, we'll be there for you.
Get a free quote online for interstate removalists Melbourne
Thanks to our smart online calculator, you can now get a free quote for Melbourne to Brisbane furniture removals, apartment moves, and office relocations using our handy online tool. Simply input all of the information and you'll have an obligation free interstate removalist quote in no time. Alternatively call us at 1300400874.
Need more information ?
Contact us today