Save now and complete our 30 second quote form
Interstate Removalists Brisbane
Experienced Interstate Removalists Brisbane
Optimove is the only true red carpet home and office interstate removalists Brisbane service provider.  Not only is our interstate service five-star all the way but we are also the fastest interstate movers. We are creating the perfect move, both super quick and super safe.
Please give us a call on 1300 400 874 and will quickly address any questions you may have.
Our authentic white glove service means you won't have to lift a finger and your goods will have the very, very best protection and handling.  The entire interstate moving service by Optimove will also give you total peace of mind, stress, and worry-free relocation due to the features listed below.
Safety, Security, and Certainty with Optimove Interstate Removalists Brisbane
Premium Service all the Way
Your move will be managed by a dedicated, experienced Team Leader who will keep you informed every step of the way. You will also have his/her direct phone number in case you need any help.
Professional, Reliable, and Trustworthy
All management, admin, and moving staff are full-time employees; all have been chosen based on their experience, capabilities and above all their dedication in ensuring 1st class relocations for every Optimove customer.
Optimove Interstate removalists all along the eastern seaboard of Australia, from Cairns right through to Melbourne and Visa Versa.
Packing & Unpacking
We offer families and businesses a full packing and unpacking service; we will also disassemble and reassemble furniture items for you.  Our professional packers will use cling wrap, industrial strength bubble wrap, sturdy boxes, and felt blankets.  Treasured and valuable items will have even greater care.
The Fastest Interstate Removalists in Brisbane
As we stick to the road and as we are super-efficient in packing, loading, and unpacking, Optimove is the fastest interstate removalist along Australia's eastern seaboard. Because of that, we are saving you time and reducing the disruption caused to you and your children.

Best Value for Money, Unbeatable Service
The premium service and peace of mind that Optimove offers is indeed great value for money.  We are not the cheapest (nor nastiest) interstate removalists; we do however provide the best five-star treatment for a much lower rate than you would expect and which is worth every single cent.  Our interstate removalist company has an open, honest pricing policy. We use the Interstate Pricing Table published on this website to calculate and provided fixed quotes for interstate moves which will also include fuel and toll costs.  There are no hidden costs and no unexpected and unpleasant surprises on your Optimove removal bill.
No Double Handling, Less Risk of Damage, Loss
We are one of the few interstate removalists who load your goods and unload your goods just once, transporting your goods interstate by road only.  Most other removalists reduce their costs by unloading household goods and furniture onto a goods train and then loading from the goods train at the destination.  This double handling of your home contents significantly increases the likelihood of damage and loss of items.
Modern & Reliable Vehicles, No breakdowns, No Delays
Our fleet of company-owned removal trucks is in tip-top condition and ready for the long interstate journey whether it be from Melbourne to Cairns or Brisbane to Canberra or anywhere in-between.  We also have different size vehicles. So, we can provide you with a truck that is just the right size for your move. This means you will only be paying for the space that you need.
Removals Storage Solutions
Optimove is a full-service moving company. We can help you to plan your move, safely pack all your belongings, disassemble your furniture, move your belongings into storage, and then move and reassemble your furniture into your new home.
We treat every item with the utmost care as if it were our own. Whether you have renovations planned, have outgrown your home, or are downsizing, Optimove makes storage easy. We know no situation is alike, which is why we provide flexible and affordable solutions. If you need storage for a single day, a week, a month, a year, or longer, we can tailor a package to your needs.
Contact us now for your Interstate Relocation
Our Communication Consultants can answer your questions and provide you with any advice or assistance that you may need regarding interstate removalists Brisbane service.  So if you are looking for help or a quote for the perfect move, please call Optimove on 1300 400 874.
Interstate Removalists Brisbane  – Optimove Removalists are the only True Five Star Removalists along Australia's Eastern Seaboard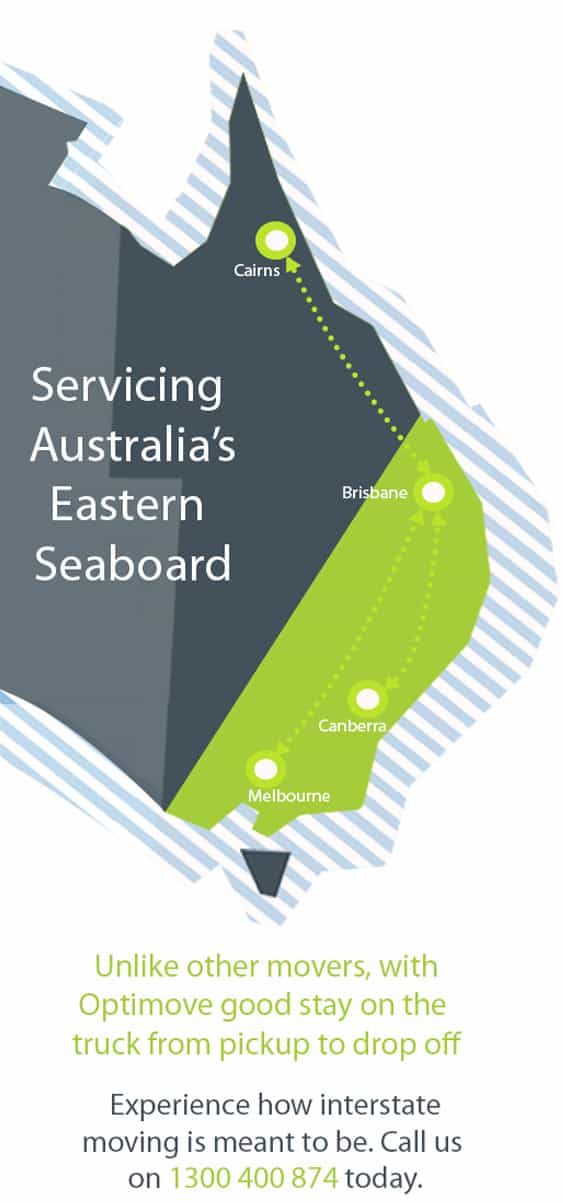 Need more information ?
Contact us today