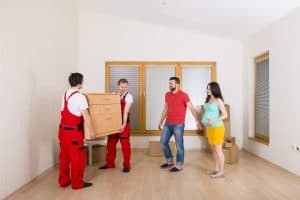 Professional Local Removalists for Nundah
There's never been a better time to be a Nundah resident. Nundah Village has transformed and is, in turn, converting the energy of the whole suburb. If you're moving to or from Nundah, you'll need removalists with comprehensive experience in both residential and commercial moves. Optimove has the personal touch to ease a family into its new home with thoughtfulness and white-glove care of all your possessions. We also can move big loads – our 100m3 trucks are some of the largest on the road, so your relocation is completed before you know it. Every move can benefit from the experience, and our team leaders' experience can't be beaten. They have at least four years' and over 600 moves' experience – there's no situation that they can't handle with confidence and professionalism.
Premium boxes, Transit Insurance and Discounted Packing
Optimove knows what extra details take the stress out of moving day. As the expert removalists in Nundah, we can also provide you with packing, bubble wrapping and unpacking services, making relocating your belongings a breeze. Talk to us about our special box offers.
Look No Further for Brisbane's Finest Removalists
At Optimove, we're confident that we are the best removalists in Nundah, with our superior customer service and fast, experienced movers. Contact us today to discuss your upcoming move.
Moving to Nundah on Brisbane's Northside?
Local shopping centre:
Nundah Village Shopping Centre
89 Buckland Rd, Nundah QLD 4012
Local post office:
Nundah Post Office
1162 Sandgate Rd, Nundah QLD 4012
Local train station:
Nundah Railway Station
Duke St, Nundah QLD 4012
Local schools:
Northgate State School
128 Amelia St, Nundah QLD 4012
Aviation High School
67 Widdop St, Clayfield QLD 4011