Save now and complete our 30 second quote form
Removalists Sydney to Brisbane – Interstate Removals
Interstate Furniture Movers Sydney to Brisbane
Sydney to Brisbane
Are you making a move from Sydney to Brisbane? Hire a professional furniture removalist based in Australia today.
Optimove offer affordable Sydney to Brisbane furniture removal services
Moving house can be stressful, especially when it's interstate. Optimove are here to make your experience worry-free. We're a helpful team of highly trained furniture moving specialists with years of experience behind us. We've got the tools, vehicles, and dedicated professionals ready to get you and your belongings where you need to go.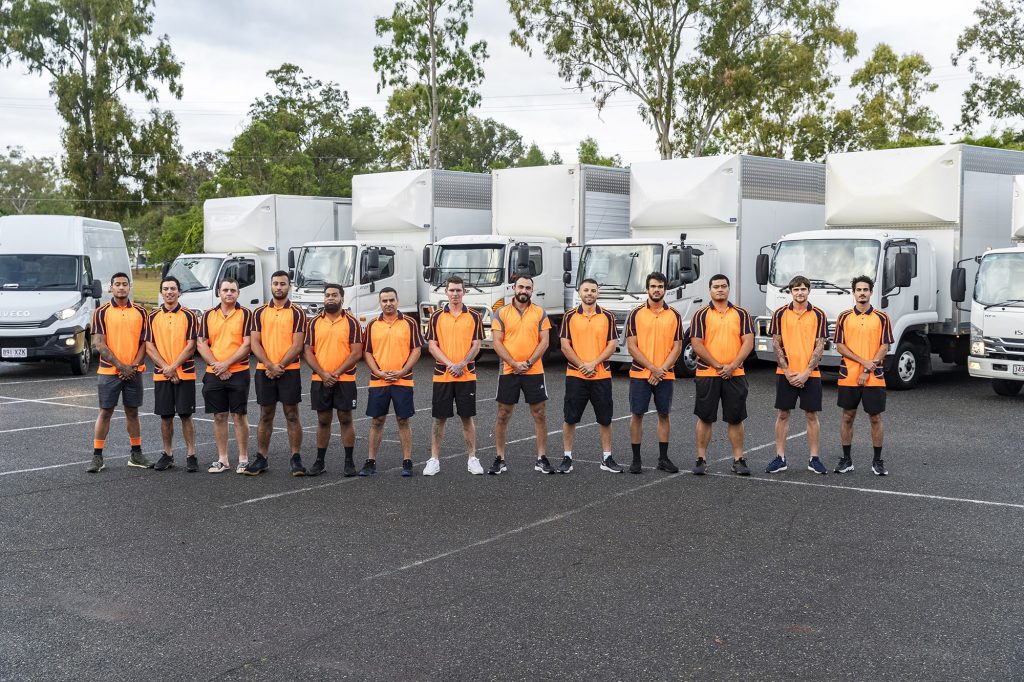 All of Optimove's house moving services
Optimove Sydney removalists offer a start to finish furniture removal service for Sydney to Brisbane house moves. You don't need to lift a finger once you've booked in the professional, friendly, and reliable Optimove interstate furniture moving team. Call us for all of your needs, including:
Full house removals for interstate and local moves
Full apartment moves for interstate and local moves
Interstate and local office relocations
Packing and unpacking services, including wrapping and boxing
Furniture assembly and disassembly, including providing the tools
Large furniture removal, like piano moving, for local and interstate house moves
Assistance with storage solutions for interstate and local moves in Australia
Affordable solutions for interstate moves such as backloading furniture removal services
… and so much more! Bookmark our services page to stay in the loop about limited-time offers and new services offered by the professional Optimove team. We're always developing our offerings to best suit our customers and remain one of the best choices for furniture removal in all of Australia.
Get a free quote for Australian interstate moves online
We've developed a simple, easy to use calculator for working out the price of moving from Sydney to Brisbane with a removalist company. Don't waste time stressing over your budget and estimating interstate moving costs when you could fill out our user-friendly calculator and get an obligation free quote today. No hidden fees, no nasty surprises.
Optimove provides interstate house moving services in Australia at a flat rate price dependent on the volume of furniture you'll be taking with you from Sydney to Brisbane. Don't choose a company that charges you per hour for those long trips; stick to Optimove. There's a reason why we've got an average five-star rating across over one thousand Google customer reviews!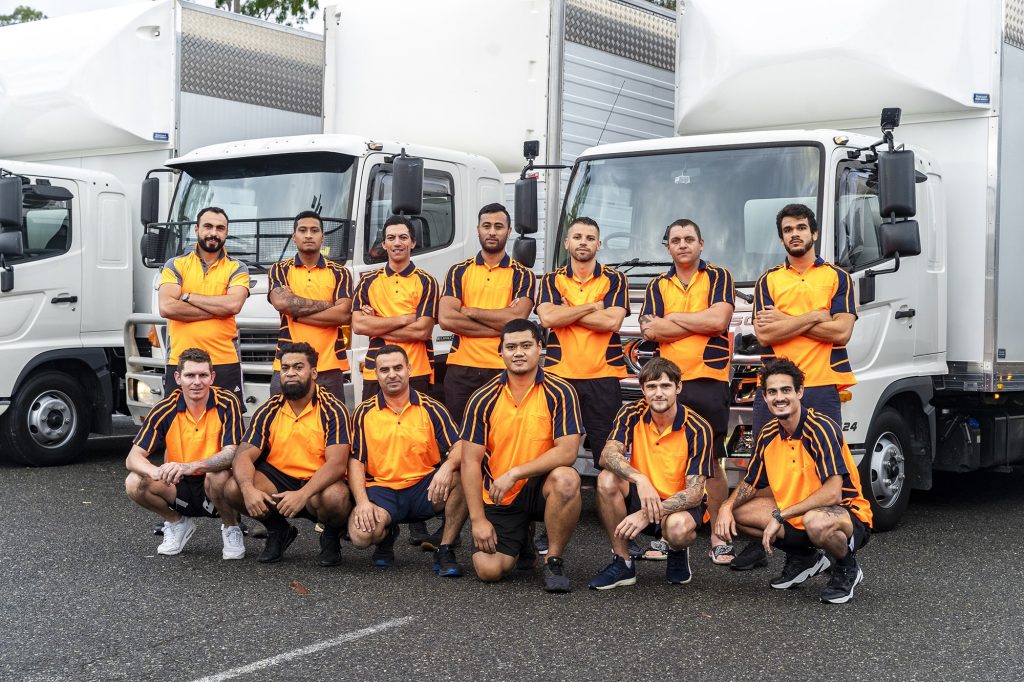 Expert Interstate Office Removalists
Optimove are your professional office removalists, local and interstate. Moving to a new office or business does not have to be difficult. Our removalist team is an expert at moving office furniture and equipment, and we take care of every detail. With our superior red carpet treatment and personalised service, you will be able to limit downtime (if any at all) and discard your worries and concerns.
Packing & Unpacking Services
Every move is different – which is why we offer flexibility to work around your needs and can tailor a package to suit you.
We can either help with packing and unpacking for the following:
Your entire home
A single room
A few big and bulky, fragile items
Packing only
Unpacking only
Our professional packing team carefully and securely pack all your belongings.
We only hire full-time, permanent staff members. Our team is reliable and trustworthy. You can relax while they are handling your expensive and valuable items.
We can also provide Premium boxes for your move if required.
Short & Long Term Storage Solutions
We are a full-service moving company. We can help you to plan your move, safely pack all your belongings, disassemble your furniture, move your belongings into storage, and then move and reassemble your furniture into your new home.
We treat every item with the utmost care as if it were our own.
Whether you have renovations planned, have outgrown your home, or are downsizing, Optimove makes storage easy.
Three Reasons to Move from Sydney to Brisbane
There is so much to love about Sydney. If you've been offered a job in Brisbane or need to move closer to the family on the Gold Coast, you might be hesitant about making a move from the wonderful, lively city of Sydney in New South Wales. It is true that whether you want a change of scenery or having to move to suit your circumstances, you must carefully consider a new living location. The team at Optimove has made your decision-making process a little easier for you by listing three of our top reasons as to why you should move to Brisbane from Sydney. After all, Optimove top-rated interstate removalists are here to remove the stress from your Australian interstate relocation.
Warmer weather, rainforests and beachy escapes at your back door
They don't call it the Gold Coast or the Sunshine Coast for no reason. Brisbane and all of Queensland is renowned worldwide for their sunny weather and pristine beaches. Brisbane offers tropical temperatures, and although New South Wales is right on the border, if you're coming from further south, then these high temperatures and mild winters will be a welcomed change for you. Yes, that's right! Even in the winter months, the temperatures in Brisbane can linger around the low and mid 20's.
Being from New South Wales, you'll most likely be familiar with the beautiful Australian coast. Queensland also boasts some inner-city artificial beaches that are a great escape for families with small children. The water parks and family-oriented attractions are also a great choice for days out.
The tropical weather comes with an even more enticing feature for nature lovers and earth friends. Brisbane has many rainforests on offer with multiple hiking opportunities. These picturesque locations are not too far from anywhere you could choose to live around the city, and there is always a new destination to discover if you have the time to hunt.
Lifestyle Change
Occasionally in life, there comes a time when you need to switch things up. If you want to change, then the team here at Optimove thinks Brisbane should be high on your list of considerations. Brisbane is renowned for its relaxed, friendly, and welcoming community. There's also a great culture to be found in Brisbane, even though Melbourne and Sydney usually take the kudos for that in Australia. Brisbane has a Cultural Centre that provides many cultural endeavours, and you'll also find the Gallery of Modern Art in Queensland.
Affordability
Brisbane is one of the most affordable capital cities in Australia. At the time of writing this article, it is only trumped in affordability Hobart and Adelaide. However, you might be aware that Brisbane, and Queensland as a whole, is a top tourist destination. That means that Brisbane has all of the luxuries, developments, and opportunities that more expensive destinations offer, but with a more general cost of living.
Housing prices in Brisbane have yet to boom like those of Sydney, Melbourne, and even Perth. You can take advantage of this affordable economy by moving to Brisbane from Sydney and snagging one of the many employment opportunities. They could even pay a similar wage to your familiar Sydney career if you find the right employer.
How long does it take to get to Brisbane from Sydney?
It will take around 9.5 hours to drive Sydney to Brisbane at optimal traffic, weather, and other road conditions. You can shave a lot of time off your commute with a 1.5-hour flight.
Hire us for your interstate removals needs today.
Thanks to our smart online calculator, you can now get a free quote for Sydney to Brisbane furniture removals, apartment moves, and office relocations using our handy online tool. Input all of the information, and you'll have an obligation free interstate removalist quote in no time. Alternatively, call us on 1300400874.
Need more information ?
Contact us today