Save now and complete our 30 second quote form
Sydney to Sunshine Coast Removalists
Sydney to Sunshine Coast Removalists
Those leaving Sydney might be looking for a warmer, more peaceful place. Sunshine Coast might be the ideal tradeoff between simple shoreline living and huge city accommodation for those individuals. When arranging your move, it's imperative to locate a reliable Sydney to Sunshine Coast removalists to guarantee your merchandise make the outing securely. On the off chance that a move from Sydney to Tweed Heads is coming up for you, make sure to connect with Optimove Removalists to get some information about the quickest premium administration in the business.
Please give us a call on 1300 400 874, and will quickly address any questions you may have.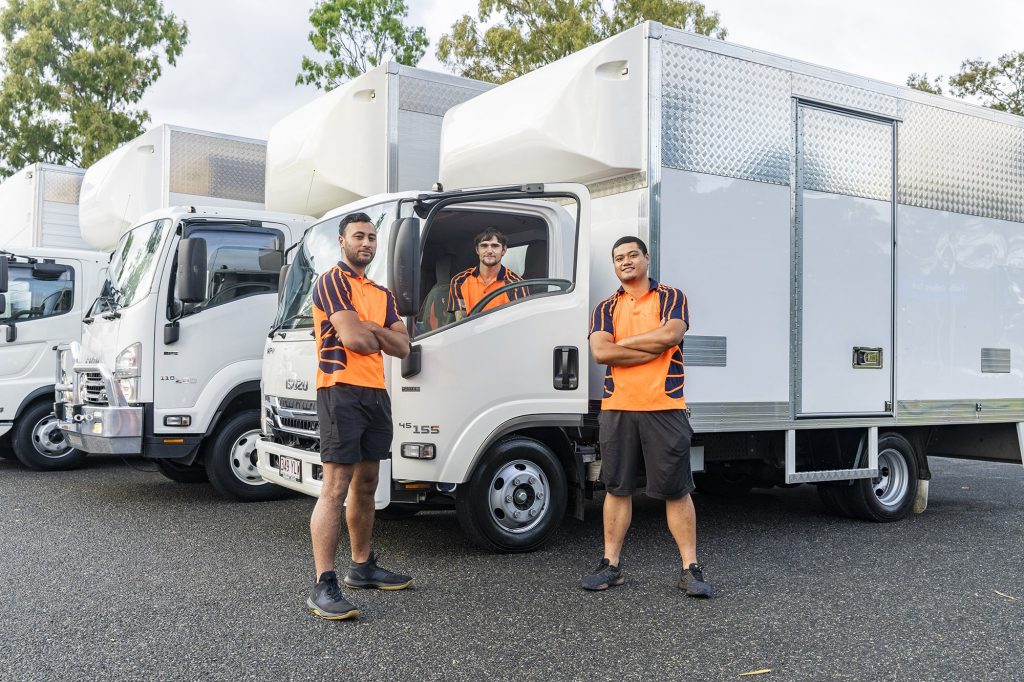 Trust Our Team for Your Move from Sydney to Sunshine Coast
Our expert home and office removalist teams are very prepared to furnish you with the most consistent move possible. All our Optimove removal experts are committed to top-quality services and high moving capacity. Every removal is going by a team leader with no less than 4 years and 600 moves' experience and, with our fleet of completely prepared vehicles, there's no move we can't deal with polished skill and certainty.
Large Load? No Problem
Regardless of whether you're moving a mansion or moving an office floor, the Optimove fleet is here to help. Our trucks extend up to 100m3 in size, enabling us to convey a portion of the biggest loads out and about. With the alternative to include extra removal experts, you can make certain you're paying for precisely space and hands you require.
Removalists Sydney to Sunshine Coast At Your Convenience
If you're currently living in Sydney and you're looking to move to Sunshine Coast, you might be searching for the most practical way to move your belongings and get your new chapter started.
If this move is already in action, then call us now for a free quote on interstate removals. We're professional and friendly with a commitment to customer service. Check out our reviews to see why Optimove is one of the best-rated removalist companies in Sydney. Don't want to talk on the phone just yet? Use our handy calculator!
If you're still considering whether Sunshine Coast is right for you, the Optimove removalists Sydney to Sunshine Coast team have answered some of your questions about moving from Sydney to Sunshine Coast this year.
Removal Storage Solutions
Our family-owned and operated business is a full-service moving company. We can help you to plan your move, safely pack all your belongings, disassemble your furniture, move your belongings into storage, and then move and reassemble your furniture into your new home.
We treat every item with the utmost care as if it were our own. Whether you have renovations planned, have outgrown your home, or are downsizing, our Removalists makes storage easy.
Packing & Unpacking Services
Every move is different – which is why we offer flexibility to work around your needs, and can tailor a package to suit you.
We can either help with packing and unpacking for the following:
Your entire home
A single room
A few big and bulky, fragile items
Packing only
Unpacking only
Our professional packing team carefully and securely pack all your belongings.
We only hire full-time, permanent staff members. Our team is reliable and trustworthy. You can relax while they are handling your expensive and valuable items.
We can also provide Premium boxes for your move if required.
Why do Sydney-siders move to the Sunshine Coast?
You might have heard that there has been an influx of Sydney and Melbourne residents moving to the Sunshine Coast to live. Are you wondering why? Well, some of the answers lie within the name! While all of Australia has warmth and beaches on offer, Sunshine Coast and Gold Coast are unrivalled for warm winters, and pristine beaches simply made for frolicking. Sunshine Coast also offers a warm water temperature year-round, perfect for surfers and swimmers.
Sunshine Coast is a great choice for people looking for a lifestyle change without having to give up certain city luxuries that come along with living in Sydney.
How far is the Sunshine Coast from Sydney?
In order to get to Sunshine Coast from Sydney, you'll be clocking over 1,000km. If you choose to drive this distance, it's a scenic trip up the coastline of New South Wales, across the Queensland border and continuing up the coast for a short trip. In fact, this 10-hour drive is one of the most renowned for tourists in Australia.
So, you can drive from Sydney to Sunshine Coast.
Let's be honest, though. A 10-hour drive when you're moving house is less than pleasurable. If you have to make multiple trips, you could be looking at a few days before you get the chance to settle into your new home. Combine that with fuel and toll costs, as well as potential days off work – that's a massive chunk of money to be losing in a move.
How much does it cost to move from Sydney to Sunshine Coast?
That lost money can be minimised and better invested with a professional removal company. Optimove understand that an interstate move can be expensive and stressful, so we've developed a fair pricing model for our valued customers.
Optimove charges interstate moves by the volume of furniture we'll be moving for you and not by hours on the road. No need to worry about that 20-hour return trip; we're a professional, ethical removals company in Sydney with your best interest at heart.
Free Quote on Entire House and Apartment Removals from Sydney to Sunshine Coast
Whether you're looking to grow your business or change your lifestyle, Optimove would like to help make your journey from Sydney to Sunshine Coast as safe and stress-free as possible.
For the best Sydney to Sunshine Coast removalists, who will also make you smile, contact us via our online form or call 1300 400 874.
Need more information ?
Contact us today